Saturation Hall Video Stills Gallery
Welcome to the Video Stills Sample Gallery!
Here you can see screen-capture video stills from many of our videos. These are actual screenshots, captured by our editing software, and taken from the final edit of each video. Click on the thumbnails below to see the full-size screenshots. Check back regularly, every time we add a new video, screenshots will appear here.
While the majority of our videos are of indoor messy sets, there are also some wetlook videos, still from these are at the bottom of this page.
Note: Unless indicated otherwise, all the videos on this site are slient.
Saturation Hall - only $50 for six months membership!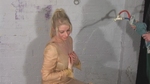 Nurse Uniform Gunge Test Part 2
Clothes filling and treacle-sitting with Prudence and Modesty
---
Saturation Hall - The Gungemaster Photosets - only $50 for six months access - Click here to Join Now!
---
This page built by The Renegade Website Generator