Previews & Samples
Sample photos from all the sets in the Members Lounge
This page lists all of our current live photosets, including full information on the mumber of shots in each set. Note these aren't hand picked "best of" shots, just the 3rd, 9th, 15th, 60th, 90th and 150th shots from each set, to give you a true idea of what you'll find in our members' area.
The first two shots are clickable to give the full-size high-res image, generally these will be clean "before" shots in most sets, the others are also clickable to our standard 800 x 600 free sample size - the images in the Members Lounge are all the same size as the first two images here.
---

Technical: With this scene you get two videos, the full length one with all the actions as listed above, and also "just the pours" which features just the gunge deluge and water deluges that followed.
---
gm-3f021: "Fidelity is allowed to get her own back on Chastity" Added 2022-02-28, 40 photos, 111M disk space
Videos included:
gm-3f021-v1 (12 minutes, 42 seconds)
gm-3f021-v2 (07 minutes, 49 seconds)
Click here for the availability of this set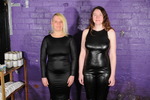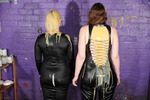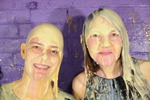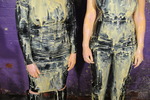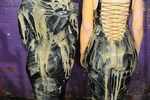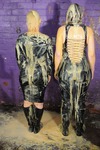 Sub Fidelity Messes Her Mistress
Fidelity is allowed to get her own back on Chastity
Regular viewers may remember that back in scene gm-3f020, Mistress Chastity, in a rather fetching lace-up-back PVC catsuit, chained her sub Fidelity up in the middle of the dungeon and mercilessly messed her up. Well of course in this house there are rules of fairness, and no-one wants to tempt the fates too much. So now, Mistress Chastity, still dressed in her clean PVC from the previous scene, is going to get rarther messy herself, as Fidelity decides to teach her all about custard pies.
Though in a generous spirit, Fidelity, who's changed into a very nice skin tight spandex bodycon dress, and clean boots, is going to allow Chastity to give as good as she gets, so Fidelity is in for another drenching in goo, too.
What follows is a lovely little session in which they both fill each other's outfits with cream and custard, before indulging in some fairly hard-impact flannage, really slamming some paper bowl custyard pies into each other's faces, butts, and elsewhere too.
Both girls end up totally drenched in mess from head to foot.
Enjoy!
---
On to Page 2
---